Universal Designed (Accessible) Room
Rooms for use by the physically challenged providing unique features that can be added to the room depending on the guest's needs. All rooms which are wheel-chair-accessible offer more than ample space to move. Some of the features include an electric reclining bed, electric chair, a closet with lowered bar, a desk with space to roll under and bathroom equipped with grab bars on the side with slip-proof mat. All rooms are non-smoking.
Notice to our guests: Renovation work in progress

As part of our continued commitment to enhance our property and service, we are currently in the process of renovating our rooms. During the renovation period, there may be some construction noise.

We apologize for any inconvenience it may cause and your understanding and support during the renovation period is much appreciated.

-Period: From 4th November, 2019 until 27th March, 2020
-Hours : 10:00~18:00
-Areas:  On the 31th floor in the Main Tower
* Guests staying at "Plaza Deluxe Double (Smoking)," "Deluxe Twin (Universal Design)," "Luxury Deluxe Twin (Universal Design)" and "Junior Suite (Universal Design)" might experience noise during the hours of 11:00-17:00 from November 4th-March 27th, 2019.
*The "Luxury Forth (Main Tower)" rooms will be ALL SMOKING from November 4th-March 27th, 2019. We will try to deodorize rooms as much as we can, upon request.
Deluxe Twin (Universal Design)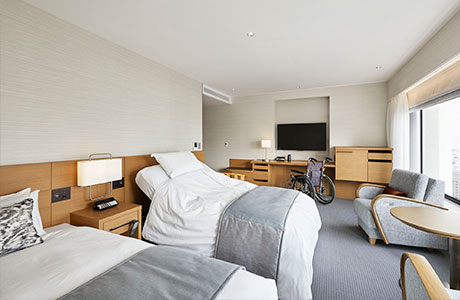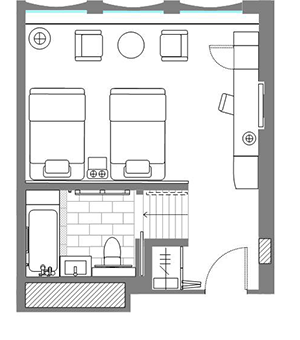 Tower
Main
Bed type
Twin
Area in sqm (sqft)
35.5(382.1)
Number of Beds
2
Bed Size in cm (ft)
120 x 203(3.9×6.6)
Adjustable bed:
120 x 195(3.9×6.3)
*No smoking
Amenities & Facilities
Free Wi-Fi service
Complimentary water bottle
L'OCCITANE's bath amenities (Shampoo, Conditioner, Shower gel, Soap, Body lotion, Bath cubes)
Toothbrush, Razor, Shower cap, Brush & Comb, Body wash towel, Cotton sets
Skin care set
Towels
Slippers
Japanese nightwear (YUKATA) and Sleeper
Bathrobes
Sewing kit
Japanese Tea
Coffee and Tea
Kettle
Mini bar
Refrigerator
Hairdryer
Iron and Ironing board
Multiple Adapter
USB port
In-room safe with electric charger
TV (CNN, BBC, CCTV(Chinese), KNTV(Korean), Discovery, Fox, Cartoon Network, MTV, Movie Channel)
Bose Bluetooth speaker
Humidifier and air purifier
Air conditioning
Voice mail
Luxury Deluxe Twin (Universal Design)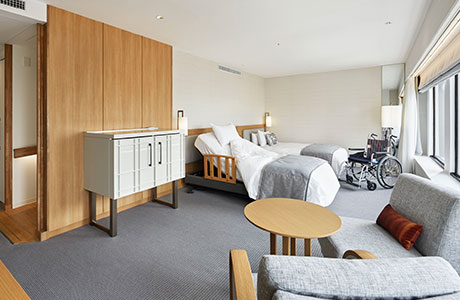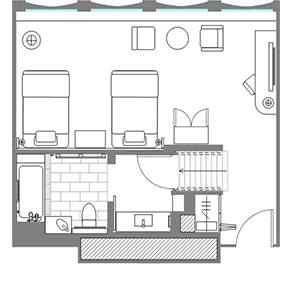 Tower
Main
Bed type
Twin
Area in sqm (sqft)
47.0 (505.9)
Number of Beds
2
Bed Size in cm (ft)
120 x 203(3.9×6.6)
Adjustable bed:
120 x 195(3.9×6.3)
*No smoking
Junior Suite Twin (Universal Design)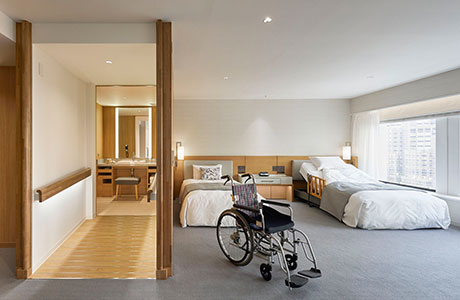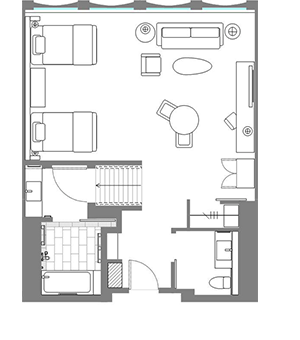 Tower
Main
Bed type
Twin
Area in sqm (sqft)
67.4 (725.4)
Number of Beds
2
Bed Size in cm (ft)
120 x 203(3.9×6.6)
Adjustable bed:
120 x 195(3.9×6.3)
*No smoking
Amenities & Facilities
Free Wi-Fi service
Complimentary water bottle
L'OCCITANE's bath amenities (Shampoo, Conditioner, Shower gel, Soap, Body lotion, Bath cubes)
Toothbrush, Razor, Shower cap, Brush & Comb, Body wash towel, Cotton sets
Skin care set
Towels
Slippers
Japanese nightwear (YUKATA) and Sleeper
Bathrobes
Sewing kit
Japanese Tea
Coffee maker and Tea
Kettle
Mini bar
Refrigerator
Hairdryer
Iron and Ironing board
Multiple Adapter
USB port
In-room safe with electric charger
TV (CNN, BBC, CCTV(Chinese), KNTV(Korean), Discovery, Fox, Cartoon Network, MTV, Movie Channel)
Bose Bluetooth speaker
Humidifier and air purifier
Air conditioning
Voice mail
Special Features
Electric adjustable bed
Electric lift chair to help guests stand up
Detachable and adjustable equipments (e.g. handrails and backrest in the bathroom)
Wardrobe with lowered bar hunger
Wheelchair accessible bathroom
Voice guidance in the elevator halls for guest with visual impairment
Special equipments for guest with hearing impairment (Lightning system, display monitor, and vibration type chusions)
Keio Plaza Hotel Tokyo (Room Reservation)

Tel. +81-3-5322-8000
Fax. +81-3-3345-8269

Los Angeles Office

Toll-Free Phone: 1-800-222-KEIO
Tel. +1+213-362-7767
Fax. +1+213-362-7772