4 Bedded Room
Offering 10 rooms in the Main Tower (46.3 sqm/498.3 sqft) and 10 rooms in the South Tower (40.8 sqm/439.1 sqft), this category of room provides more than adequate space and is ideally suited for family use with its 4 beds and 2 bathrooms. Relax in this cozy atmosphere and enjoy your time with loved ones or friends. Full room amenities include an in-room safe with electric charger and complimentary internet connection.
Notice to our guests: Renovation work in progress

As part of our continued commitment to enhance our property and service, we are currently in the process of renovating our rooms. During the renovation period, there may be some construction noise.

We apologize for any inconvenience it may cause and your understanding and support during the renovation period is much appreciated.

-Period: From 4th November, 2019 until 27th March, 2020
-Hours : 10:00~18:00
-Areas:  On the 31th floor in the Main Tower
* Guests staying at "Plaza Deluxe Double (Smoking)," "Deluxe Twin (Universal Design)," "Luxury Deluxe Twin (Universal Design)" and "Junior Suite (Universal Design)" might experience noise during the hours of 11:00-17:00 from November 4th-March 27th, 2019.
*The "Luxury Forth (Main Tower)" rooms will be ALL SMOKING from November 4th-March 27th, 2019. We will try to deodorize rooms as much as we can, upon request.
Luxury Fourth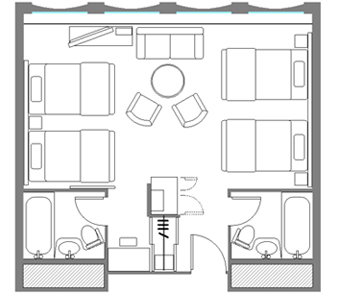 | Tower | Main |
| --- | --- |
| Bed type | Quad |
| Area in sqm (sqft) | 46.3 (498.3) |
| Number of Beds | 4 |
| Bed Sizein cm (ft) | 120 x 200 (3.9 x 6.5) |
Amenities & Facilities
Free Wi-Fi service
Complimentary water bottle
Shampoo, Conditioner, Shower gel, Body lotion
Toothbrush, Razor, Shower cap, Comb
Lady's skin care set
Towels
Slippers
Japanese nightwear (YUKATA) and Sleeper
Bathrobes
Japanese Tea and Coffee
Kettle
Mini bar
Refrigerator
Hairdryer
Transformer
In-room safe
TV (CNN, BBC, CCTV(Chinese), KNTV(Korean), Discovery, Fox, Cartoon Network, MTV, Movie Channel)
DVD player
Air conditioning
Voice mail
Fourth the South (No-Smoking)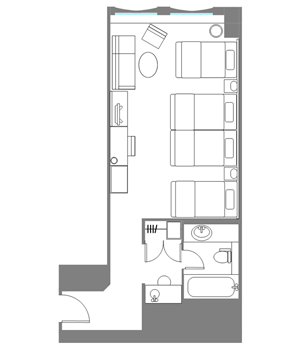 Tower
South
Bed type
Quad
Area in sqm (sqft)
40.8 (439.1)
Number of Beds
4
Bed Size in cm (ft)
110 x 203 (3.6 x 6.6)
110 x 188 (3.6 x 6.2)
Amenities & Facilities
Free Wi-Fi service
Complimentary water bottle
Shampoo, Conditioner, Shower gel
Toothbrush, Razor, Shower cap, Comb, Cotton sets
Towels
Slippers
Nightwear (Sleepers)
Japanese Tea, Coffee and Tea
Kettle
Mini bar
Refrigerator
Hairdryer
Transformer
In-room safe with electric charger *
TV (CNN, BBC, CCTV(Chinese), KNTV(Korean), Discovery, Fox, Cartoon Network, MTV, Movie Channel
Air conditioning
Voice mail

* Upgraded amenities
Keio Plaza Hotel Tokyo (Room Reservation)

Tel. +81-3-5322-8000
Fax. +81-3-3345-8269

Los Angeles Office

Toll-Free Phone: 1-800-222-KEIO
Tel. +1+213-362-7767
Fax. +1+213-362-7772