March, 2020
Keio Plaza Hotel Tokyo Hosts "Japanese Sake Rice Wine Fair"
Featuring "Sakes" from All 47 Prefectures of Japan
TOKYO -The Keio Plaza Hotel Tokyo(KPH), one of Japan's most prestigious international hotels located in Shinjuku, Tokyo, will host a special event entitled "Japanese Sake Rice Wine Fair" from March 12 (Thursday) to July 24 (Friday), 2020 at 3 dining facilities within our Hotel. This event will feature Japanese "sake" rice wines and "shochu" distilled liquors selected by Japanese "Sake" Sommelier Keiichi Sakata from all 47 prefectures of Japan to help commemorate the relay run through all regions of Japan. Also, our Executive Chef Daisuke Yagisawa will create special menu items using fresh ingredients from various parts of Japan that harmoniously match the "sake" and "shochu" drinks served in our "Amanogawa" Japanese Sake Bar and "Kagari" Japanese Cuisine Restaurant.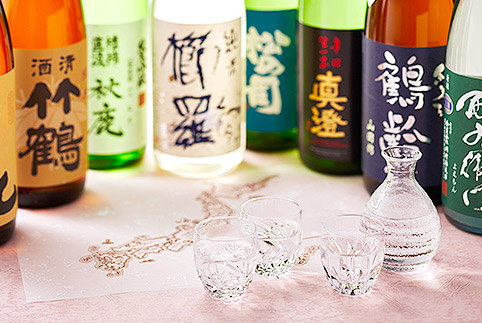 The Keio Plaza Hotel Tokyo welcomes guests from over 100 different countries from around the world, many of whom come to Japan specifically to enjoy Japanese food culture including Japanese sakes and shochus. Furthermore, the growing attention paid to Japanese sakes overseas has led to the establishment of special categories in global wine competitions specifically for Japanese sake. In response to this growing global interest in Japanese food culture, our Hotel operates seven Japanese restaurants where we serve delectable Japanese foods that harmoniously match offerings of delicious sakes and shochus. Also, our Hotel will continue to host various events and programs to help propagate Japanese food culture.
"Japanese Sake Rice Wine Fair" Featuring "Sakes" from All 47 Prefectures of Japan
Date: March 12 (Thursday) to July 24 (Friday), 2020
Venue: "Amanogawa" Japanese Sake Bar, "Kagari" Japanese Cuisine Restaurant, and "Soujuan" Japanese Kaiseki Cuisine Restaurant
Dates for Service of Specific Regional Sakes
17 Prefectures from Fukushima to Kagoshima: March 12 (Thursday) to April 30 (Thursday), 2020
14 Prefectures from Okinawa to Fukui: May 1 (Sunday) to May 31 (Sunday), 2020
16 Prefectures from Ishikawa Prefecture to Tokyo: June 1 (Monday) to July 24 (Friday), 2020
Prices:
JPY1,300 per 1 Go (180ml) serving
JPY1,700 per tasting sample set (60ml) of 3 different Sakes
*Prices include service charges and taxes.
*Some of the sakes served may be changed without prior notice
For Information and Reservations: +81-3-3344-0111 (Restaurant Reservation)
About the Keio Plaza Hotel
Keio Plaza Hotel Tokyo, located in Shinjuku at the very heart of the nation's capital Tokyo, is one of Japan's leading international hotels. Our hotel boasts of over 15 restaurants and bars, and we host a wide range of local and international guests who visit us for our welcoming facilities, warm hospitality and unique services that allow them to experience Japanese culture, including ourwedding kimono fitting experience,tea ceremony,ikebana experienceandmany others. For more information about our facilities and services, please visit ourwebsite,YouTube,FacebookorInstagram.
Contacts: Keio Plaza Hotel Tokyo, Public Relations Manager
Keiko Kawashima, +81-3-5322-8010 keiko-kawashima@keioplaza.co.jp