February, 2020
Keio Plaza Hotel Tokyo Celebrates the Arrival of Spring and Cherry Blossoms with Beautiful Flower Arrangements, Delectable Meals and Digital Sakura Art
TOKYO -The Keio Plaza Hotel Tokyo(KPH), one of Japan's most prestigious international hotels located in Shinjuku, Tokyo, will host a special event to celebrate the arrival of spring and the "Sakura" cherry blossoms with special menu items prepared in the theme of cherry blossoms by our executive chefs to be served at eight restaurants including our French, Chinese, Japanese Kaiseki, Japanese Teppan-yaki and other restaurants between March 1 (Sunday) to April 30 (Thursday), 2020. In addition to blooming of the cherry blossoms, spring also represents a busy season for the Keio Plaza Hotel with many people celebrating various events such as school entrance and graduation, and start of new jobs by graduating students. Consequently, our sommeliers will serve specially selected champagnes and wines, and our patissier chefs will prepare special cakes in the theme of cherry blossoms adorned with message cards for our guests to celebrate this commemorative season.

During this event, various beautiful flower art arrangements created by the renowned Japanese "Ikebana" flower arrangement artist Hiroki Maeno will be displayed in the third floor lobby and the second restaurant floor corridor areas of our Hotel. Large numbers of visitors from overseas travel to Japan during the spring season to see the beautiful cherry blossoms. And because the cherry blossoms only remain in bloom for a short period of about one week, the special foods and flower arrangements of our event are designed to prolong the period in which guests can enjoy the cherry blossoms. A magnificent large flower arrangement will be displayed in the third floor main lobby to provide guests with an ideal location to take commemorative photographs.

In our All Day Dining "Jurin" Restaurant, NAKED Inc., a human experience, space design and creative production company, will participate in this spring event by creating a new projection mapping video to be shown along with specially prepared foods and drinks. The new video will reflect the fleeting moment and delicacy of the cherry blossoms and spring through song and dance. Also, our "Jurin" Restaurant will be decorated in shades of pink to reflect the cherry blossoms, and an art tree adorned with real cherry blossoms and other spring vegetation will be displayed to complement the special foods and video projection mapping.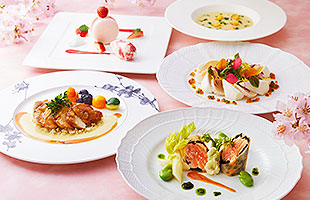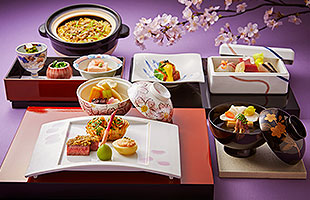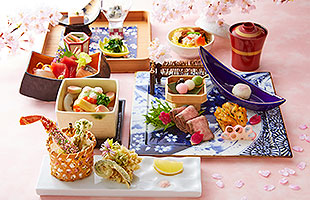 "Spring Cherry Blossom Festival"
"Blissful Combination, Beautiful Sakura Cherry Blossoms and Delectable Foods"
Delicious French foods using colorful and delicate vegetables, and Japanese foods using cherry blossoms and fresh seasonal food items that symbolically represent good luck of spring will be served at our restaurants.
Date: March 1 (Sunday) to April 30 (Thursday), 2020
Venue: 2nd Floor: "Duo Fourchettes" French and Italian Cuisine Restaurant, "Soujuan" Kaiseki Cuisine Restaurant, "Kagari" Japanese Cuisine Restaurant, "Gokoku-Tei" Korean Dining Restaurant, "Jurin" All Day Dining Restaurant
Venues: 7th Floor: "Yamanami" Teppan-yaki Restaurant, "Shun" Tempura Restaurant
Cherry Blossom Themed Flower Arrangement Exhibition
Please note that the scheduled exhibition has been called off due to various reasons. (as of March 27, 2020)
Exhibition of "Sakura" cherry blossom themed flower arrangement created by renowned "Ikebana" flower arrangement artist Hiroki Maeno
Exhibition
Dates and Venues: March 28 (Saturday) to April 12 (Sunday), 2020, 3rd Floor, Main Lobby Area
March 30 (Monday) to April 30 (Thursday), 2020, 2nd Floor, Restaurant Corridor
Live Flower Arrangement Performance
Date and Time: April 3, 2020 from 5:00p.m.
Venue: Main Lobby, 3rd floor, in front of the Flower Arrangement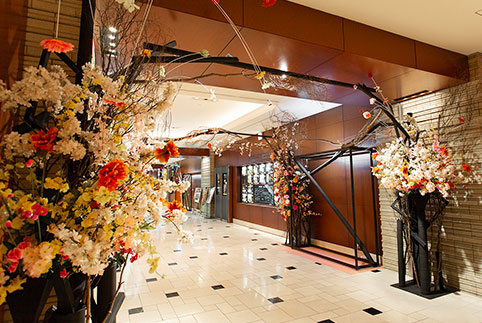 "Candle Dinner Collaboration with NAKED"【Reservations required】
Dates: March 1 (Sunday) to April 30 (Thursday), 2020
Times: 6:00p.m.~12:00a.m.(Last orders taken until 10:00p.m.)
Venue: "Jurin" All Day Dining Restaurant, 2nd Floor
Price: from JPY6,000 per person (Includes course meal, drinks, service charges and taxes)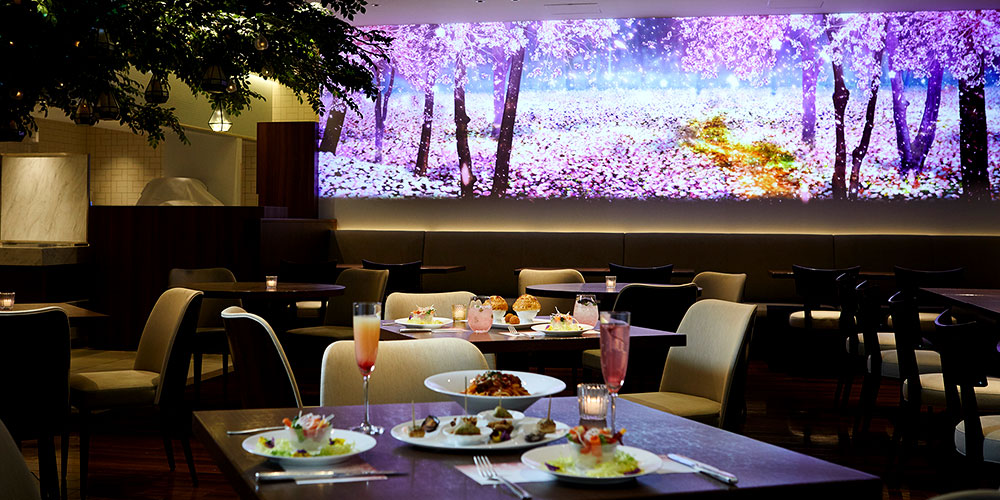 For Information and Reservations: +81-3-3344-0111 (Restaurant Reservation)
About the Keio Plaza Hotel
Keio Plaza Hotel Tokyo, located in Shinjuku at the very heart of the nation's capital Tokyo, is one of Japan's leading international hotels. Our hotel boasts of over 15 restaurants and bars, and we host a wide range of local and international guests who visit us for our welcoming facilities, warm hospitality and unique services that allow them to experience Japanese culture, including ourwedding kimono fitting experience,tea ceremony,ikebana experienceandmany others. For more information about our facilities and services, please visit ourwebsite,YouTube,FacebookorInstagram.
Contacts: Keio Plaza Hotel Tokyo, Public Relations Manager
Keiko Kawashima, +81-3-5322-8010 keiko-kawashima@keioplaza.co.jp