Suite
Our 22 suite rooms (including 3 Japanese suites) are rich in variety and unique in style. All suite rooms are located on our upper floors, this to assure our guests enjoy spectacular city views from wide picture windows.
* Actual rooms may differ slightly from the photos & layouts appearing here.
* Located on floors 40 to 41 in the Main Tower.
Suite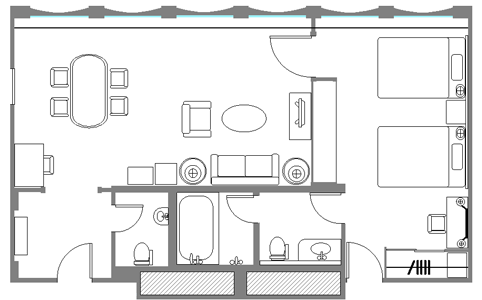 Suite (Twin)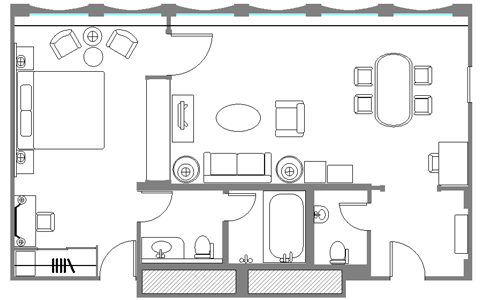 Suite (King)
Tower
Main
Suite
Luxury Suite
Bed type
Twin
King
Twin
Areain sqm (sqft)
71.0 (764.2)
71.0 (764.2)
132.2 (1422.9)
Number of Beds
2
1
2
Bed Size in cm (ft)
122 x 203 (4.0 x 6.6)
182 x 203 (5.9 x 6.6)
122 x 203 (4.0 x 6.6)
Amenities & Facilities
Free Wi-Fi service
Complimentary water bottle
Shampoo, Conditioner, Shower gel, Body lotion
Toothbrush, Razor, Shower cap,
Brush & Comb, Body wash towel, Cotton sets
Lady's skin care set
Towels
Slippers
Japanese nightwear (YUKATA) and Sleeper
Bathrobes
Japanese Tea
Coffee and Tea
Kettle
Mini bar
Refrigerator
Hairdryer
Transformer
In-room safe
TV (CNN, BBC, CCTV(Chinese), KNTV(Korean), Discovery, Fox, Cartoon Network, MTV, Movie Channel)
Air conditioning
Voice mail
Japanese Tatami Suite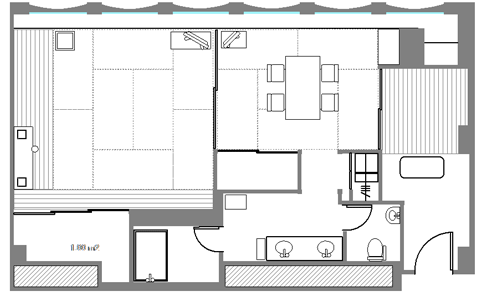 Japanese Tatami Suite
Tower
Main
Bed type
Quad (Japanese Futon Bed)
Area in sqm (sqft)
72.5 (780.3)
Number of Futon Beds
4
Amenities & Facilities
Free Wi-Fi service
Complimentary water bottle
Shampoo, Conditioner, Shower gel, Body lotion
Toothbrush, Razor, Shower cap,
Brush & Comb, Body wash towel, Cotton sets
Lady's skin care set
Towels
Slippers
Japanese nightwear (YUKATA) and Sleeper
Japanese Tea and Coffee
Kettle
Mini bar
Refrigerator
Hairdryer
Transformer
In-room safe
TV (CNN, BBC, CCTV(Chinese), KNTV(Korean), Discovery, Fox, Cartoon Network, MTV, Movie Channel)
Air conditioning
Voice mail
Keio Plaza Hotel Tokyo (Room Reservation)

Tel. +81-3-5322-8000
Fax. +81-3-3345-8269

Los Angeles Office

Toll-Free Phone: 1-800-222-KEIO
Tel. +1+213-362-7767
Fax. +1+213-362-7772