◆Childcare Leave/ nursing-care leave/short-time work
Childcare leave : 13 staff/ nursing-care leave : 1 staff (as of 2020)

◆Paternity leave
Paternity leave : 2 staff (as of 2020)

◆Improving the workplace environment for both employees with and without disabilities.
We endorse the values of "The Valuable 500" with the goal of promoting various efforts to include persons with disabilities in business activities of private sector corporations.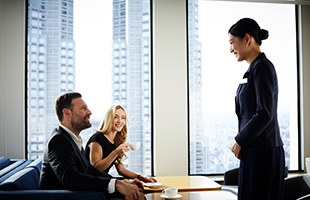 ◆"Birds Eye"
With more than 300 participants up to date, every year approximately 20 staff members have gathered from an in-company open call join the program, which focuses on the three pillars: barrier-free, ecology and social contribution. The most distinctive feature of the Birds Eye project is that it is composed of members regardless of department, position, occupational history, age and gender. It is gaining attention as a unique project that plays an increasingly important role in social contribution activities.