January, 2021
Hotel Sommeliers Create Original Champagne "Piper-Heidsieck Essentiel by Keio Plaza Hotel" to Commemorate Our 50th Anniversary
TOKYO -The Keio Plaza Hotel Tokyo(KPH), one of Japan's most prestigious international hotels located in Shinjuku, Tokyo, will celebrate its 50th anniversary of operations on June 5 (Saturday), 2021, with various special commemorative events. As one of the commemorative events, we have sent two of our Hotel's sommeliers to France to create an original champagne entitled "Piper-Heidsieck Essentiel by Keio Plaza Hotel", that has been served in our hotel restaurants and bar lounges, and also sold in our Hotel and online shops from January 1, 2021.

Our sommeliers Hiroaki Seki and Kazuki Ishiguro were sent to France to work with the Chef de Cave Émilien Boutillat of the Piper-Heidsieck Maison to create an original champagne through a special blending process called "dosage". The elegantly designed label of "Piper-Heidsieck Essentiel by Keio Plaza Hotel" bottles include the names of our two sommeliers who created this champagne, our Hotel name and special commemorative logos celebrating the 50th anniversary of our Hotel's operations.

Our two sommeliers visited the Maison in France to create a champagne blend reflecting the concept of "familiarity and approachable taste", and to determine the most important taste elements of acidity and rich fruitiness in the aftertaste to leave a lasting impression of "sincere deliciousness". This champagne is well suited to match a wide variety of foods offered at our Hotel restaurants including Japanese, Western, Chinese and Korean cuisines for the enjoyment of our guests.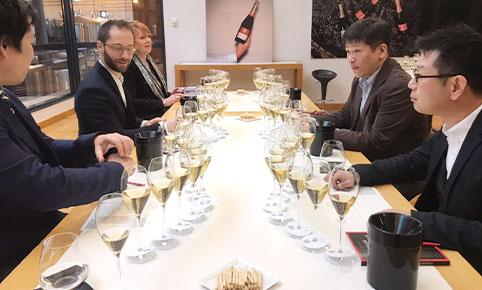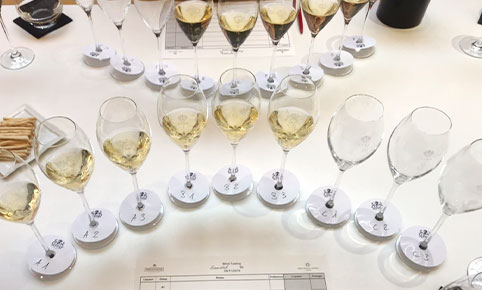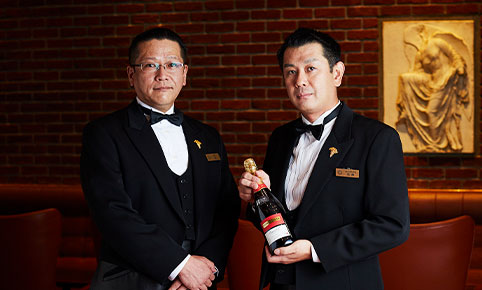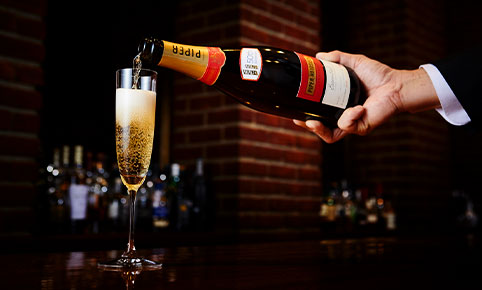 ※1 "Dosage" refers to addition of liqueur to champagnes and sparkling wines after racking (degorgement) in order to compensate for the reduced volume of liquid and to adjust the sugar content. It is also known as "liqueur on the way out", and many champagne maisons keep the liqueur they add secret from the public.
50th Anniversary Commemorative Original Champagne【Limited Amount】
"Piper-Heidseick Essentiel by Keio Plaza Hotel" Overview
Sales Start: January 1, 2021 (Friday, a national holiday)
Price: Keio Plaza Hotel (Available at all three Shinjuku, Hachioji, Tama Hotels)
JPY20,000 per bottle, JPY3,200 per glass at hotel restaurants and bar lounges (Includes service charges, taxes)
Food Boutique "Poppins" and Online Shop: JPY13,200 (Including taxes)
Grape Varieties: Pino Noir 50%, Meunier 30%, Chardonnay 20%, Dosage 6 grams / liter
Contact Information, Reservations: +81-3-3344-0111 (Restaurant Reservations)
About Piper-Heidsieck
"Piper-Heidsieck" refers to the company which was originally named "Heidsieck" and founded by the French entrepreneur Florens-Louis Heidsieck in 1785. The champagne of this venerable champagne maison has been presented to Marie Antoinette. Thereafter, the two men, Christian Heidsieck and Henri Gullaume Piper, continued operations of the maison to become "Piper-Heidsieck" and it became widely revered and a regular supplier of products to the French monarchy including 14 royal families. During the first half of the 1990s, "Piper-Heidsieck" became widely recognized as a maker of high-quality champagnes as it became an official sponsor of the Cannes Film Festival (Festival International du Film de Cannes) and the only champagne served at the Academy Awards ceremonies.
About the Keio Plaza Hotel
Keio Plaza Hotel Tokyo, located in Shinjuku at the very heart of the nation's capital Tokyo, is one of Japan's leading international hotels. Our hotel boasts 17 restaurants and bars, and we host a wide range of local and international guests who visit us for our welcoming facilities, warm hospitality and unique services that allow them to experience Japanese culture, including ourwedding kimono fitting experience,tea ceremony, andmany others. For more information about our facilities and services, please visit ourwebsite,YouTube,FacebookorInstagram.
Contacts: Keio Plaza Hotel Tokyo, Public Relations Manager
Keiko Kawashima, +81-3-5322-8010 keiko-kawashima@keioplaza.co.jp