January, 2020
Keio Plaza Hotel Tokyo Hosts "Hina-Matsuri" Girls' Doll Festival Art Exhibition
– 6,800 Magnificent Hanging Art Ornament Display and Floral Beauty
TOKYO -The Keio Plaza Hotel Tokyo(KPH), one of Japan's most prestigious international hotels located in Shinjuku, Tokyo, will host an event entitled "Hina-Matsuri Girls' Doll Festival Art Exhibition" to help guests celebrate Japan's cultural event known as Girls' Doll Festival or Hina-Matsuri from February 1 (Saturday) to March 26 (Thursday), 2020. This highly popular event is held annually and displays more than 6,000 magnificent and ornate hanging art ornaments made by hand from old silk cloth. Also, peach flowers are featured as a theme for exhibition, concerts and workshops in this year's event in keeping with the "Peach Festival" and the belief that peaches lead to longevity as they drive off evil spirits. Moreover, flowers representative of the Girls' Doll Festival season will be displayed.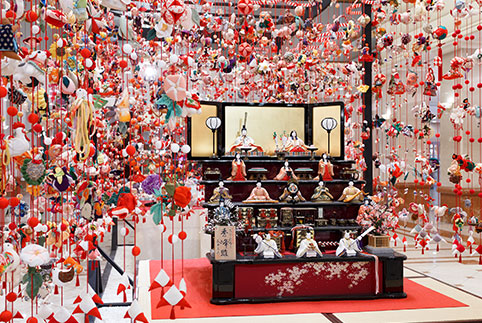 Hanging decorative art ornaments made especially for the Keio Plaza Hotel from meticulously hand stitched cloth of old silk kimono garments by renowned quilt artist Mitsuyo Matsuo and the 80 members of her Himawari Group of artists will be displayed. These ornaments are carefully crafted for this exhibition and symbolically reflect the hopes for health and happiness of children. For example, the decorations created for this exhibition have various symbolic meaning such as monkeys with the ability to ward off calamities, and mandarin ducks reflecting love between spouses.

Traditional wooden Mataro Dolls from Kamikamo Shrine in Kyoto will be displayed along with a magnificent 3.3 meter high hanging decorative art ornament exhibit in the third floor Main Lobby area to welcome guests to our Hotel. In past events, guests from around the world have been awestruck by the grandeur of this central exhibit, which is an ideal spot for commemorative pictures. This year, Non-No Co., Ltd. will provide beautiful artificial flowers to adorn tiered stand of dolls on both sides of the hanging art ornament display to accentuate its glamorous colors.
Flower-themed works of art exhibition will be held in the 3rd floor Art Lobby area. "Exhibition of Flower Vases without Flowers" displaying vases made of lacquer, pottery, bamboo and other materials will demonstrate the special beauty of vases. In addition, the Japanese painting artist Masatsugu Ito will display his dynamic paintings of "Sakura" cherry blossoms on traditional Japanese sliding-door panels to show guests the elegant beauty of Japanese paintings.

A special concert will be held against the backdrop of the quiet but dynamic Japanese sliding-door panels art of Masatsugu Ito on March 13 (Friday), 2020. For the first time this year, a special collaboration of various musical instruments including "Shakuhachi" Japanese flute, "Koto" Japanese harp, "Biwa" Japanese lute and a piano will perform songs coordinated with traditional Japanese "Nihon Buyo" dancers in the theme of Sakura cherry blossoms and other symbols representative of spring.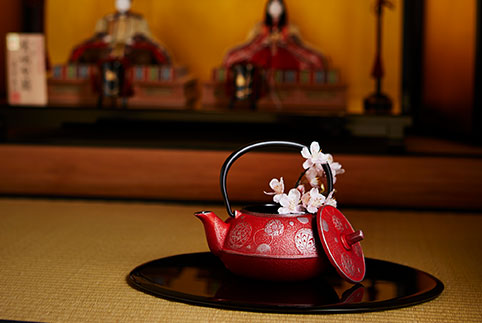 Flower arrangement artist Hiroki Maeno gives a lecture regarding the meaning and pleasures of "Ikebana" Japanese flower arrangement twice a month on Wednesday. He also provides guests with the opportunity to experience making flower arrangements using seasonal flowers, after which a cup of Japanese tea will be served. Guests can take their flower arrangements home with them to celebrate Girls' Doll Festival with their families. Moreover, special menu items commemorating the "Hina-matsuri" Girls' Doll Festival will be served at seven of our restaurants and lounge during the months of February and March 2020.
"Hina-Matsuri" Girls' Doll Festival Art Exhibition
Date: February 1 (Saturday) to March 26 (Thursday), 2020
Venue: 3rd Floor Main Lobby, Art Lobby, other locations
Hanging Art Ornaments made from Cloth of Old Silk Kimono Garments and Tiered Stand of Dolls, Highlighted with Beautiful Flowers
Some 6,800 handcrafted hanging ornaments and Mataro Dolls
Cooperation: Mataro Dolls, Mitsuyo Matsuo and her Himawari Group of artists, Non-No Co., Ltd.
Flower-Themed Works of Art Exhibition
<Cherry Blossoms on the Left, Orange Blossoms on the Right>
Tiered Stand of Dolls, Hanging Art Ornaments, Cherry Blossoms and other Flowers combine for a glamorous exhibition
Cooperation: Mataro Dolls, Mitsuyo Matsuo and her Himawari Group of artists, Non-No Co., Ltd.

<Exhibition of Flower Vases without Flowers>
Exhibition of vases made of lacquer, pottery, bamboo and other materials
Cooperation: monova, Ceramic Japan, Kyujyo Yamaguchi, Yamashita Kogei Inc., Kiyomi Okukubo, Kaoru Takemi, Toshiyuki Tsubaki, Hiroyuki Katori, Motoko Oshiyama, others

<Japanese Sliding-door Panels Art>
Exhibition of Dynamic and Intense Views of Spring through Paintings of Sakura Cherry Blossoms on Japanese Sliding-door Panels
Cooperation: Japanese Painting Artist Masatsugu Ito

For Exhibition Information: +81-3-5322-8061【Lobby Gallery Desk】
Special "Hina-Matsuri" Menus * Special menu items served until March 31 (Tuesday), 2020
These menus will be served at restaurants, including our traditional Japanese kaiseki, Japanese cuisine, tempura, French and Italian, Korean and other dining and lounge facilities. Chefs at each of these restaurants will prepare special menu items in the image of Girls' Doll Festival.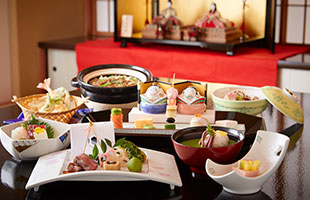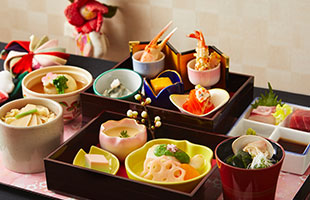 For Information and Reservations: +81-3-3344-0111 (Restaurant Reservation)
About the Keio Plaza Hotel
Keio Plaza Hotel Tokyo, located in Shinjuku at the very heart of the nation's capital Tokyo, is one of Japan's leading international hotels. Our hotel boasts of over 15 restaurants and bars, and we host a wide range of local and international guests who visit us for our welcoming facilities, warm hospitality and unique services that allow them to experience Japanese culture, including ourwedding kimono fitting experience,tea ceremony,ikebana experienceandmany others. For more information about our facilities and services, please visit ourwebsite,YouTube,FacebookorInstagram.
Contacts: Keio Plaza Hotel Tokyo, Public Relations Manager
Keiko Kawashima, +81-3-5322-8010 keiko-kawashima@keioplaza.co.jp