July, 2019
Keio Plaza Hotel Tokyo Offers "Tea Ceremony Experience and Luxurious Accommodations for Families" Package - Relaxing and Elegant Family Summer Vacation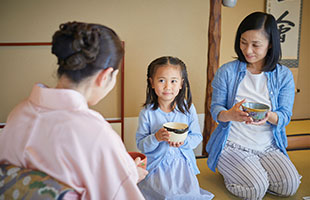 TOKYO -The Keio Plaza Hotel Tokyo(KPH), one of Japan's most prestigious international hotels located in Shinjuku, Tokyo, will begin offering a special summer accommodation package entitled "Tea Ceremony Experience and Luxurious Accommodation for Family" from July 20 (Saturday) to September 1 (Sunday), 2019. This accommodation package has been specially designed to keep families with children entertained by providing the unique cultural experience of a Japanese tea ceremony to take home with them as fond memories of their summer vacation at our Hotel.
The rooms offered in this accommodation package are the very popular "Two Queen Beds Rooms" located on the "Premier Grand" club floors with use of the Club Lounge included. "Two Queen Beds Rooms" are facilitated with two 1.53 meter wide queen sized beds to allow parents to sleep comfortably with their children. The Premier Grand club guest rooms also feature bathrooms with wash basins that are separate from the bathing and toilet facilities for ease of use by families.

With the "Tea Ceremony Experience and Luxurious Accommodations for Families" package, a tea ceremony master will teach the conduct and etiquette of traditional Japanese custom through the serving of carefully prepared tea and delicate Japanese sweets. After adults are finished learning about tea ceremony, children will be given the chance to prepare Japanese green tea themselves. And after everyone has completed this tea ceremony, they will all be given special certificates of completion. The tea ceremony experience will be held in the "Sho-Fu-An" Tea Room, located on the 10th floor of the Main Tower and opened in 1971. "Sho-Fu-An" has operated as one of the few authentic tea room facilities in any hotel in Tokyo, and hosted large numbers of overseas guests who are interested in tea ceremony.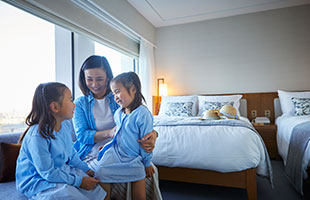 Our club floor "Premier Grand" guest rooms are facilitated with Sealy brand mattresses used in the finest hotels globally, traditional 300 thread count Antoinette bed sheets made in Italy, famous Imabari Japanese towels from Ehime Prefecture, L'OCCITANE natural cosmetic and personal hygiene items from Southern France, BOSE Bluetooth capable speakers and others premium items. In addition, an exclusive concierge desk catering to the special needs of Premier Grand guests is located on the sharply designed Club Lounge on the 45th floor of the Main Tower. The luxurious and spacious 535 square meter Club Lounge boasts of breathtaking views overlooking Tokyo from 160 meters above ground with dining services provided at breakfast, tea and bar times between the operating hours of 7a.m. to 10p.m., and has become an extremely popular feature of our Premier Grand club floors.
"Tea Ceremony Experience and Luxurious Accommodations for Families"
Dates: July 20 (Saturday) to September 1 (Sunday), 2019
Room Charge: Club Floor Premier Grand Two Queen Beds Room
Starting from JPY55,050 for triple occupancy room *available for usage of between 2 to 4 persons
(Includes use of Club Lounge, breakfast, service charges and taxes)

1) Tea Ceremony experience for overnight guests (1.5 hours required, children of preschool age or younger cannot participate but are welcome to watch)
2) Simulated Club Lounge check-in experience for children and special commemorative photographs available between 2:00p.m. to 5:00p.m.
3) Amenity items for mother use (skin care products etc.)
4) Commemorative certificates of stays and tea ceremony completion, and photographs presented to guests
5) Complimentary late check-out at 12:00p.m. (Normal check-out time is 11:00a.m.)
6) Complimentary use of Sky Pool facilities

Information and Reservations: +81-3-5322-8000 (Accommodation Reservation Desk)
About the Keio Plaza Hotel
Keio Plaza Hotel Tokyo, located in Shinjuku at the very heart of the nation's capital Tokyo, is one of Japan's leading international hotels. Our hotel boasts of over 15 restaurants and bars, and we host a wide range of local and international guests who visit us for our welcoming facilities, warm hospitality and unique services that allow them to experience Japanese culture, including ourwedding kimono fitting experience,tea ceremony,ikebana experienceandmany others. For more information about our facilities and services, please visit ourwebsite,YouTube,FacebookorInstagram.
Contacts: Keio Plaza Hotel Tokyo, Public Relations Manager
Keiko Kawashima, +81-3-5322-8010 keiko-kawashima@keioplaza.co.jp