June, 2019
Keio Plaza Hotel Tokyo Reopens Luxuriously Updated Fitness Room from June 15, 2019
TOKYO -The Keio Plaza Hotel Tokyo, one of Japan's most prestigious international hotels located in Shinjuku, Tokyo, has renovated the 7th floor fitness room to create a more luxurious atmosphere to the overall facilities, and has reopened the facility at 5:00a.m. on June 15 (Saturday).

Our Hotel originally established the fitness room at its current location on the 7th floor in 2003 as a space for staying guests to use. And while we have continued to make upgrades to our exercise equipment and other functions of our fitness room on an ongoing basis, the current renovation marks the first time that we are making updates to its interior to create an even more luxurious feel to the facility.

The number of overseas guests staying at the Keio Plaza Hotel has risen in recent years, and we endeavor to upgrade both our facilities and services to respond to the various needs of guests. As part of our upgrades, we began providing complimentary smart phones in each guest room for use within and outside of our Hotel. Also, we expanded our " Premier Grand" Club Floor facilities located on the top floors of our hotel, which were originally opened in 2016, and added two floors bringing the total number of " Premier Grand" guest rooms to 167 in December 2018. Moreover, we renovated our largest restaurant the Super Buffet Restaurant " Glass Court" in January 2019 to accommodate the growing demand from guests for breakfast services.
7th Floor Fitness Room (Complimentary usage for staying guests)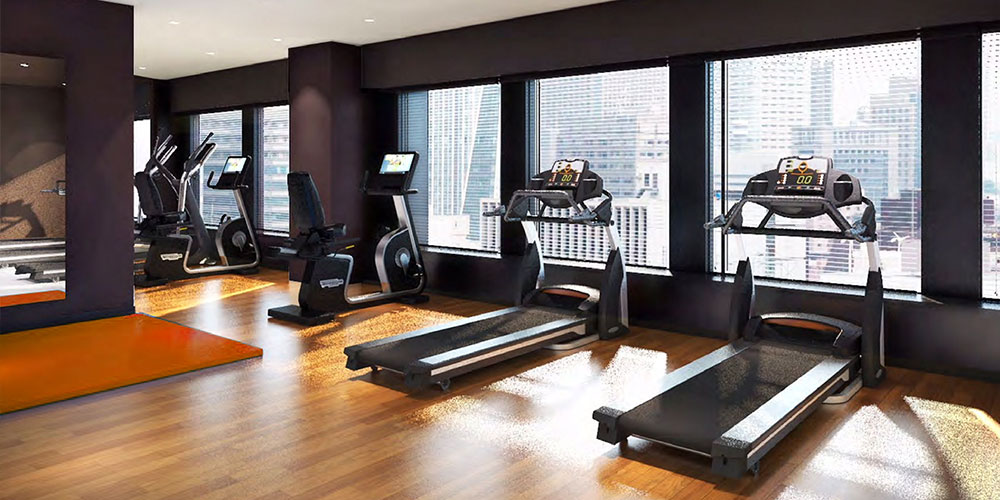 Operating Hours: 5:00a.m.~10:00p.m.
Facilities: 3 PRECOR Treadmills, 2 PRECOR Bikes, 2 PRECOR Cross Trainers,
1 PRECOR Chest Press, 1 PRECOR Leg Extension, Dumbells, Stretching Area
Towels, Water Server, Automatic Blood Pressure Measuring Equipment, Weight Scale

*Children under the age of 13 are asked to refrain from usage of the fitness room for safety reasons
*Guests using the fitness room are asked to prepare their own shoes and gym wear
About the Keio Plaza Hotel
Keio Plaza Hotel Tokyo, located in Shinjuku at the very heart of the nation's capital Tokyo, is one of Japan's leading international hotels. Our hotel boasts of over 15 restaurants and bars, and we host a wide range of local and international guests who visit us for our welcoming facilities, warm hospitality and unique services that allow them to experience Japanese culture, including ourwedding kimono fitting experience,tea ceremony,ikebana experienceandmany others. For more information about our facilities and services, please visit ourwebsite,YouTube,FacebookorInstagram.
Contacts: Keio Plaza Hotel Tokyo, Public Relations
Keiko Kawashima, +81-3-5322-8010 keiko-kawashima@keioplaza.co.jp