June, 2019
Keio Plaza Hotel Tokyo Award Winning Bartenders to Prepare
Rugby Inspired Fusion Cocktails - June 1 to November 30, 2019
TOKYO -The Keio Plaza Hotel Tokyo, one of Japan's most prestigious international hotels located in Shinjuku, Tokyo, is proud to announce that our skilled bartenders serve a variety of unique fusion cocktails created in the image of the highly popular sport of "rugby" at three of our bar lounges from June 1 to November 30, 2019 to help celebrate the world rugby tournament, which will be held in Japan. The cocktails prepared for this special cocktail fair will be created by our two award winning bartenders in the image of the sport of rugby.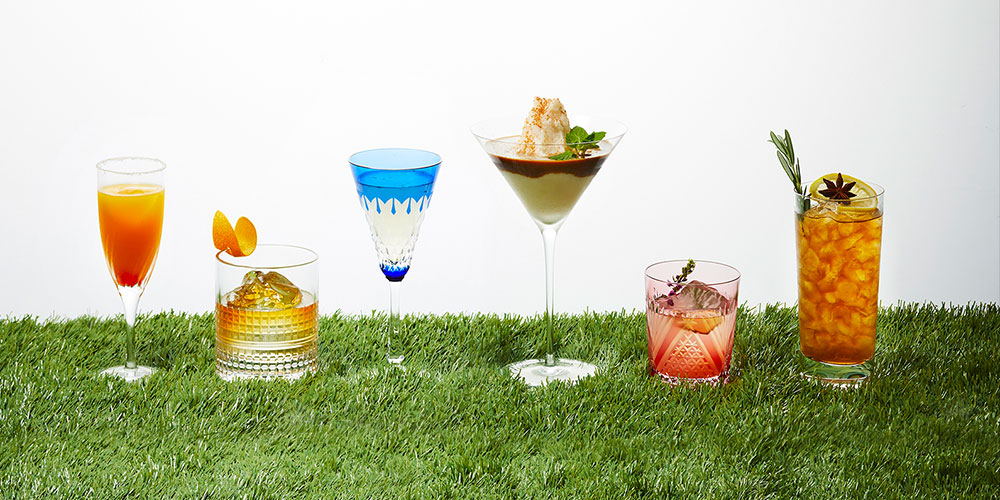 (Drinks pictured from left to right)
1."Screw Pass"
A cocktail with low alcohol content of 2.1% named after the spiraling screw pass commonly used in rugby, and using elements of the screwdriver cocktail that combines a touch of saltiness with sweetness, together with a light scent of coriander for complexity.

2."No. 8"
A cocktail made to reflect the qualities of both strength and speed of the number eight position of forward players in rugby.

3."After Match Function"
A cocktail created in the image of a party for players, staff and referees to celebrate the good fight of the matches, to be served as an aperitif using various Japanese ingredients.

4."Try, Conversion goal"
A cocktail that combines ingredients used in cocktails served in the six countries of the "Six Nations" rugby league that is comprised of the strongest teams in Europe, and created with two different flavor profiles in a single glass to reflect the rugby game before and after a try is scored.

5."Brave Blossom"
Named after the nickname of the Japan national rugby team, a Japanese sake based cocktail that uses Japanese cherry blossoms, ginger and shiso (Japanese basil) to reflect the native flavors of Japan.

6."Scrum"
Named after the group of eight forwards who band together to push against their opponent team's scrum, this exotic cocktail combines eight different ingredients from various countries.


Dates: June 1 (Saturday) to November 30 (Sunday), 2019
Venues: 2nd Floor "Brillant" Main Bar, 3rd Floor "Cocktail and Tea Lounge" Lobby Lounge,
45th Floor "Aurora" Sky Lounge
Price: JPY2,200 per cocktail
(Includes service charge and taxes, minors under the age of 20 cannot be served)

For Information and Reservations: +81-3-3344-0111 (Restaurant Reservations)
About the Keio Plaza Hotel
Keio Plaza Hotel Tokyo, located in Shinjuku at the very heart of the nation's capital Tokyo, is one of Japan's leading international hotels. Our hotel boasts of over 15 restaurants and bars, and we host a wide range of local and international guests who visit us for our welcoming facilities, warm hospitality and unique services that allow them to experience Japanese culture, including ourwedding kimono fitting experience,tea ceremony,ikebana experienceandmany others. For more information about our facilities and services, please visit ourwebsite,YouTube,FacebookorInstagram.
Contacts: Keio Plaza Hotel Tokyo, Public Relations
Keiko Kawashima, +81-3-5322-8010 keiko-kawashima@keioplaza.co.jp