May, 2019
Keio Plaza Hotel Tokyo Becomes First Hotel Selected as "Good Practice Company" of "Barrier Free Spirit Campaign"
TOKYO -The Keio Plaza Hotel Tokyo, one of Japan's most prestigious international hotels located in Shinjuku, Tokyo, was selected for registration as one of 150 companies in the 2018 "Barrier Free Spirit Campaign", sponsored by the Tokyo Metropolitan Government, and within this group of companies was recognized as a "Good Practice Company" for its sustained superior efforts to raise awareness of the need to promote barrier free measures including both facilities and services. Thus our Hotel became the first hotel selected to this group of companies recognized for our sustained efforts to implement barrier free measures.

The Keio Plaza Hotel Tokyo has led the hotel industry with its various efforts to provide guests with barrier free, universal design facilities and services since participating in the 1988 World Congress of Rehabilitation International. We have also promoted a wide variety of measures including employee training, internal communications on our intranet reflecting the voices of our guests, and other measures to improve our universal design facilities and services on a daily basis. In 2002, we established a project called "Birds Eye", in which over 300 employees have participated, for the promotion of universal design facilities and services. Also, the Keio Plaza Hotel Tokyo hosts an annual charity event entitled "Volunteer Plaza" with a goal of proactively contributing to society by providing participants the opportunity to experience the difficulties in mobility that commonly face elderly and physically challenged persons in railway stations and hotels, and to increase the understanding of the need for barrier free facilities and services. Furthermore, we renovated ten existing universal designed rooms and added three new larger universal design rooms at the end of the previous year to make them even easier to use. Our other barrier free efforts include installation of supplementary toilet functions for assistance dogs, magnetic loop guidance systems and communication tools for visually and hearing impaired guests.

The Keio Plaza Hotel Tokyo will continue its efforts to implement the needs and desires of our customers in our barrier free and universal design facilities and services, and on the back of the inspiration and encouragement we feel from the recognition of our efforts reflected by our selection as a member of the "Barrier Free Spirit Campaign".
<Universal Design and Service Promotion History>
1988:

15 barrier free universal rooms created

1996:

Rooms equipped with communication equipment with special vibrating and lighting functions

1999:

Installed LCD display door scopes and audio information talking sign systems

2002:

10 universal designed rooms created
Created a project of "Birds Eye" for promotion of universal design and service by employees

2003:

Established a universal design public restroom on the 2nd floor of the Main Tower

2004:

Started installation of magnetic loop systems for a hearing aid in our banquet rooms
Charity event "Volunteer Plaza" started

2007:

Established toilet facility specially for assistance dogs

2013:

Universal Manner Certification for staff started (279 staff certified as of November 2018)
Became an official hotel of Japanese Para-Sports Association

2015:

Started offering a special wedding plan with barrier free options
Became an official hotel of Japanese Para-Sports Association

2016:

Established universal designed toilet for employees
The first Japanese hotel to introduce speech-to-text transcription system and began offering remote sign language interpretation services
Became an official hotel of Japanese Para-Sports Association

2017:

Received "Sustainability Award" in Universal Manner Award Ceremonies

2018:

10 existing universal designed rooms renovated,
3 luxury type universal designed rooms added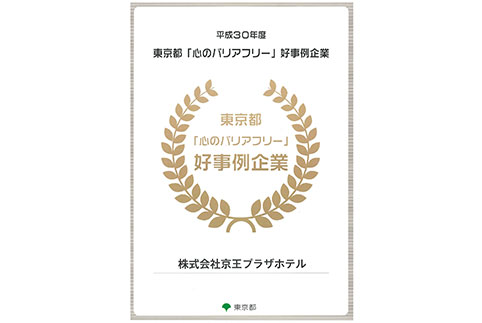 Tokyo Metropolitan Government
"2018 Barrier Free Spirit Campaign" -
"Good Practice Company"
Keio Plaza Hotel Co., Ltd.
About the Keio Plaza Hotel
Keio Plaza Hotel Tokyo, located in Shinjuku at the very heart of the nation's capital Tokyo, is one of Japan's leading international hotels. Our hotel boasts of over 15 restaurants and bars, and we host a wide range of local and international guests who visit us for our welcoming facilities, warm hospitality and unique services that allow them to experience Japanese culture, including ourwedding kimono fitting experience,tea ceremony,ikebana experienceandmany others. For more information about our facilities and services, please visit ourwebsite,YouTube,FacebookorInstagram.
Contacts: Keio Plaza Hotel Tokyo, Public Relations
Keiko Kawashima, +81-3-5322-8010 keiko-kawashima@keioplaza.co.jp