April, 2019
Keio Plaza Hotel Co., Ltd.
Sanrio Co., Ltd.
Keio Plaza Hotel Tama Opens My Melody, Little Twin Stars Rooms on June 15, 2019
Sweet Dreams in Our Hello Kitty and Sanrio Character Rooms
TOKYO -The Keio Plaza Hotel Tokyo, one of Japan's most prestigious hotel companies operating hotels located in the Shinjuku district of Tokyo and other locations, is proud to announce the strengthening of its collaborative relationship with Sanrio Co., Ltd. (Headquarters: Shinagawa, Tokyo, President and CEO: Shintaro Tsuji) to expand facilities and services featuring "Hello Kitty" and other Sanrio characters at our Keio Plaza Hotel Tama. Our Tama Hotel will renovate a total of four additional rooms, including two rooms each in the themes of "My Melody" and "Little Twin Stars" (Kiki and Lala) who have been adored by fans around the world since their creation in 1975, to be opened on Saturday June 15, 2019, and thereby become the world's first hotel to operate rooms in these themes on a regular basis. The Keio Plaza Hotel Tama first opened four theme rooms in November 2014 based on "Hello Kitty", and the new rooms will raise the total number of Hello Kitty theme rooms to eight. Reservations for the new My Melody and Little Twin Stars rooms have been taken from Monday April 15, 2019.

The My Melody room is created in the image of the innocent, cheerful and loving nature of the character playing hide and seek in a forest. A heartwarming wall relief depicting My Melody wearing a red hood made by her grandmother and playing on a swing made by her father is set against a backdrop of the room interior created to represent a green forest. This room will make guests feel as if they are part of a scene of My Melody playing with her friends in a forest.

The Little Twin Stars room is created with various images of Kiki and Lala playing at the amusement park on clouds. Also, younger brother Kiki, who is highly curious and a bit hasty, and older sister Lala, who is easily scared and a little bit of a crybaby, are depicted riding a unicorn on their way to an amusement park in another scene. In addition, pillows decorated with clusters of stars are placed on the bed with shades of pink, accentuating the sense of fantasy from the world of "Little Twin Stars" and making guests feel as if they are participants in the scenes depicted.

The Hello Kitty rooms have enjoyed strong popularity since their opening in 2014 as reflected by the average occupancy rates of over 70% and supported by strong demand from female and family guests seeking the allure of attractive Hello Kitty cakes and desserts, drinks, and other foods and services in addition to the rooms. Also, the Keio Line Tama Center train station, which is a one minute walk from the Keio Plaza Hotel Tama, was renovated in 2016 to include Hello Kitty and other Sanrio characters and designs, and two airport shuttle buses stopping near our Tama hotel are also decorated with Sanrio characters. Moreover, trains decorated with Sanrio characters began operations from November 1, 2018. Consequently, our Hotel will work with the local community and leverage the opening of additional "Hello Kitty themed rooms to promote even wider usage by Sanrio character fans from all around the world.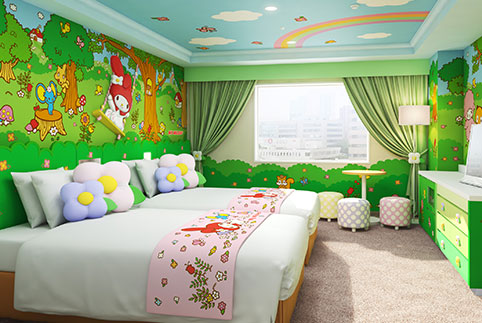 My Melody Room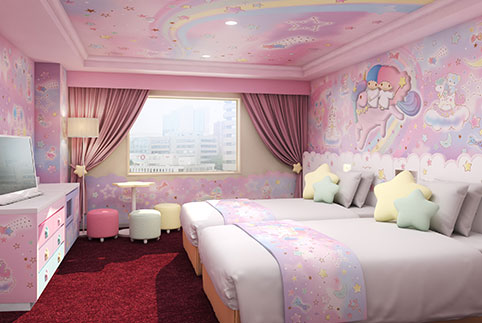 Little Twin Stars Room
©1976, 2019 SANRIO CO., LTD.
| Room Type | Room Numbers | Square Meters | Guests per Room | Price per Guest |
| --- | --- | --- | --- | --- |
| My Melody Room | 2 | 26.3 | 1 | JPY59,400 |
| Little Twin Stars Room | 2 | 26.3 | 2 | JPY29,700 |
| Hello Kitty Room | 4 | 26.3 | 3 | JPY21,780 |
About the Keio Plaza Hotel
Keio Plaza Hotel Tokyo, located in Shinjuku at the very heart of the nation's capital Tokyo, is one of Japan's leading international hotels. Our hotel boasts of over 15 restaurants and bars, and we host a wide range of local and international guests who visit us for our welcoming facilities, warm hospitality and unique services that allow them to experience Japanese culture, including ourwedding kimono fitting experience,tea ceremony,ikebana experienceandmany others. For more information about our facilities and services, please visit ourwebsite,YouTube,FacebookorInstagram.
Contacts: Keio Plaza Hotel Tokyo, Public Relations
Keiko Kawashima, +81-3-5322-8010 keiko-kawashima@keioplaza.co.jp