December, 2018
Keio Plaza Hotel Co., Ltd.
Sanrio Co., Ltd.
The Keio Plaza Hotel Tama Creates New "Hello Kitty" Photographic Spot and Sanrio Characters Themed Rooms -"My Melody" and "Little Twin Stars"
TOKYO -The Keio Plaza Hotel Co., Ltd.(KPH), one of Japan's most prestigious hotel companies operating hotels located in the Shinjuku district of Tokyo and other locations, is proud to announce that it is fortifying its collaborative relationship with the Sanrio Co., Ltd. (Headquarters: Shinagawa, Tokyo, President and CEO: Shintaro Tsuji) to expand our facilities and services featuring "Hello Kitty" and other Sanrio characters at our Keio Plaza Hotel Tama facility. We will create a new photographic spot within our hotel lobby where guests can take pictures with "Princess Kitty" in March 2019, and renovate another four rooms to become Sanrio characters themed rooms, two rooms each in the themes of "My Melody" and "Little Twin Stars" (Kiki and Lala), in June 2019 in addition to the four existing "Hello Kitty" themed rooms.

Our new photographic spot is based upon the motif of an original "Hello Kitty" character named "Princess Kitty", and features a scene showing a three dimensional "Princess Kitty" gorgeously dressed and wearing a tiara at the top of the stairs. "Princess Kitty" has been designed exclusively for the Keio Plaza Hotel with long curly eyelashes and rosy pink cheeks to make her appear especially cute. Also, brilliant high-heeled chair, rose patterned carpet and other features accentuate the setting of "Princess Kitty" at the top of the stairs.

The Keio Plaza Hotel Tama "Hello Kitty" themed rooms were first opened on November 1, 2014 and have been extremely popular with guests with families. Sanrio's amusement park called "Puroland" is a short five minute walk from our Tama hotel, and our lobby lounge "Duet" and delicatessen "Poppins" serve specially created "Hello Kitty" cakes and desserts. The new photographic spot is located on the side of the second floor front lobby to provide easy access to visitors who are not staying at our Hotel to enjoy taking pictures with "Princess Kitty". The newly renovated rooms decorated with Sanrio characters will be available for guests to use from June 2019. As "Hello Kitty" characters are tremendously popular even outside of Japan, we look forward to hosting overseas visitors in all of our "Hello Kitty" rooms.

The Keio Plaza Hotel Tokyo located in Shinjuku will stop operating its existing "Hello Kitty" themed rooms on January 3, 2019, with "Hello Kitty" themed facilities and services to be concentrated at the Keio Plaza Hotel Tama in the future. In addition, Keio Line Tama Center train station, which is a one minute walk from the Keio Plaza Hotel Tama, was renovated in 2016 to include "Hello Kitty" and Sanrio characters and designs, and the airport shuttle buses stopping near our Tama hotel are also decorated with Sanrio characters. Moreover, trains decorated with Sanrio characters started operations from November 1, 2018.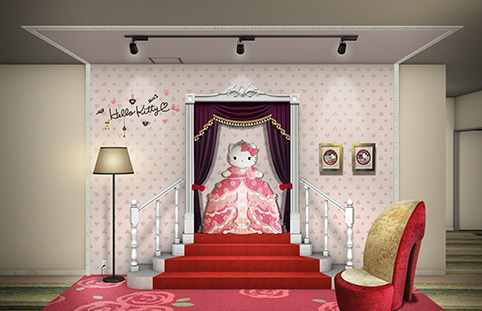 "New Photo Spot" Image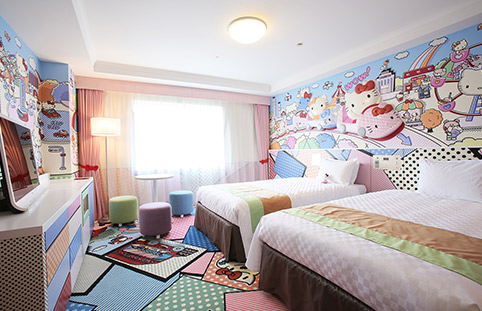 Keio Plaza Hotel Tama Existing Hello Kitty Room
About the Keio Plaza Hotel
Keio Plaza Hotel Tokyo, located in Shinjuku at the very heart of the nation's capital Tokyo, is one of Japan's leading international hotels. Our hotel boasts of over 15 restaurants and bars, and we host a wide range of local and international guests who visit us for our welcoming facilities, warm hospitality and unique services that allow them to experience Japanese culture, including ourwedding kimono fitting experience,tea ceremony,ikebana experienceandmany others. For more information about our facilities and services, please visit ourwebsite,YouTube,FacebookorInstagram.
Contacts: Keio Plaza Hotel Tokyo, Public Relations Manager
Keiko Kawashima, +81-3-5322-8010 keiko-kawashima@keioplaza.co.jp

Sanrio Co., Ltd., Public Relations Section, Public and Investor Relations Department
Kazuo Tohmatsu, Mail: sanriopr@sanrio.co.jp