December, 2018
Keio Plaza Hotel Tokyo Hosts "Alice's Adventures in Wonderland" Dessert Buffet - January Buffet Features Fresh Strawberries
TOKYO -Keio Plaza Hotel Tokyo(KPH), one of Japan's most prestigious international hotels located in Shinjuku, Tokyo, is hosting a special dessert buffet serving various desserts created in the image of characters and scenes from "Alice's Adventures in Wonderland", the popular novel written by Lewis Carroll, at its All Day Dining Restaurant "Jurin" located on the second floor from October. Due to popular demand of guests, this event will be extended until January and will feature unique dessert dishes during January featuring fresh strawberries, including strawberry tarts, crepes, Paris Brest and others.

This year's "Alice's Adventures in Wonderland" dessert buffet event also features specially coordinated "British fabrics" ornaments and decorations reflecting the luxurious British lifestyles befitting of our Hotel. The interior of our "Jurin" Restaurant will be decorated using colorful fabrics made by "Osborne & Little", which is celebrating its 50th anniversary since its establishment, to help recreate the ambience of scenes from "Alice's Adventures in Wonderland". Furthermore, special desserts using fresh strawberries including strawberry sandwiches and ice cream will be served during January, for a total of thirty different beautiful and delectable desserts.

Moreover, our "Cocktail and Tea Lounge" located on the third floor of our Hotel will also offer dining plans specially catering to groups of female guests during January.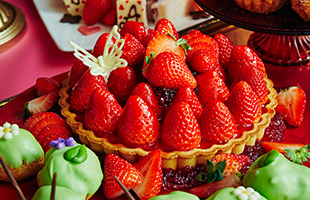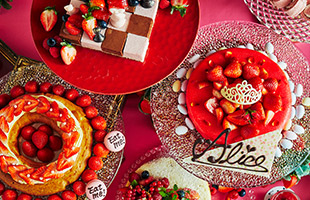 "Alice's Adventures in Wonderland – Collaboration with British Fabrics"
* Prices include service charge, taxes
Dates: Until January 31 (Thursday), 2019
* Dates vary depending upon participating restaurant
Co-Hosts: Manas Trading Inc., Musashino Kogyo Co., Ltd.
Strawberry Dessert Buffet "Strawberry Wonderland Party – Alice's Adventures in Wonderland"
Venue: 2nd Floor All Day Dining Restaurant "Jurin"
Adults: JPY4,300, Children: JPY2,600 including drinks
Service Hours: 3:00p.m.~5:30p.m., Last orders taken at 5:00p.m.
Party Plan for Women "Alice's Cocktail Night"
Venue: 3rd Floor "Cocktail and Tea Lounge"
Price: JPY6,500 per adult, between 2 to 10 guests required
Service Hours: Guests admitted to restaurant between 6:00p.m.~8:00p.m.
Contents: 5 food items and choice from 54 different cocktails including those specially created in the image of Alice
* Reservations taken until 5:00p.m. the day before (Excluding Sundays, Holidays) the dinner
For Information, Reservations: +81-3-3344-0111 (Restaurant Reservation)
About the Keio Plaza Hotel
Keio Plaza Hotel Tokyo, located in Shinjuku at the very heart of the nation's capital Tokyo, is one of Japan's leading international hotels. Our hotel boasts of over 15 restaurants and bars, and we host a wide range of local and international guests who visit us for our welcoming facilities, warm hospitality and unique services that allow them to experience Japanese culture, including ourwedding kimono fitting experience,tea ceremony,ikebana experienceandmany others. For more information about our facilities and services, please visit ourwebsite,YouTube,FacebookorInstagram.
Contacts: Keio Plaza Hotel Tokyo, Public Relations Manager
Keiko Kawashima, +81-3-5322-8010 keiko-kawashima@keioplaza.co.jp