November, 2018
Keio Plaza Hotel Chain to Replace Plastic Straws with Paper Straws From December 1st as a Part of Efforts to Protect Environment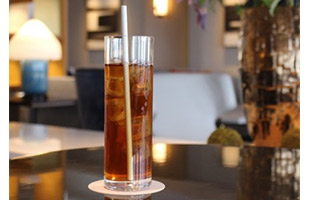 TOKYO -Keio Plaza Hotel Tokyo(KPH), one of Japan's most prestigious international hotels located in Shinjuku, Tokyo, will in principle eliminate use of plastic straws and replace them with paper straws at its four hotels located in Shinjuku, Tama, Hachioji and Sapporo effective from December 1, 2018. This move reflects our concern for the global movement to reduce the amount of plastics which wind up polluting the oceans by eliminating use of plastic straws and is part of our various efforts of our Hotel Group to protect the environment.
The Keio Plaza Hotel Group had used some 430,000 plastic straws per year and in principle will shift completely to use of paper straws given to customers ordering beverages in our various bars, restaurants, banquet parties, and in hotel rooms. However, we will make flexible plastic straws available to customers who specifically request them.

The Keio Plaza Hotel Tokyo has implemented various measures as part of its environmental conservation efforts for many years. Some of our efforts include reduction of biodegradable garbage volume by two thirds through the use of vacuum drying processing equipment, and bio-processing to eliminate odors, particulate matter and bacterial impurities from kitchen waste water, of which part is recycled for use in toilets. We also introduced energy conserving equipment in our air conditioning systems to reduce carbon dioxide output and become an even more environmentally friendly hotel operator. The Keio Plaza Hotel Tokyo also became the first high rise hotel in Japan to participate in Japan's first regionally shared communal air conditioning system at the time of the start of our operations in 1971, and we will maintain our efforts to implement environmental conservation measures based upon our 47 year track record of implementing measures to protect the environment. We will also implement measures to maintain high levels of safety for our delicious foods served to our customers.
History of Our Environmental Conservation Efforts
1971:

Began operations along with introduction of a regionally shared communal air conditioning system



1991:

Established a committee specifically designed to deal with waste issues



1992:

Recycling of waste oil for reuse as liquid soaps started, automated electric power conserving equipment introduced



1998:

Water conserving equipment installed



1999:

Automated room temperature controlling equipment installed



2000:

Kitchen waste water bio-processing, recycled water purifying system implemented



2001:

Registered as CategoryⅠ "Tokyo Eco-Up Business Operator"



2002:

"Bird's Eye" Ecology & Barrier Free Project established, all elevators (25 units) use energy conserving "inverter" type equipment



2003:

Ultraviolet light reducing film applied to windows in guest rooms on the west side of our Hotel



2004:

Started asking guests staying for multiple nights whether they would like to reuse their towels and sheets,
introduced a drying system for biodegradable wastes (Response to food recycling laws)



2005:

Established an "Energy Conservation Promotion Committee," introduced BEMS optimized energy conserving system in our South Tower



2006:

Air conditioning system motors replaced with more energy efficient motors



2008:

LED lighting used in the renovated Concorde Ball Room, 1,000 square meter roof top terrace garden in our 7th floor, energy conserving lighting installed



2009:

Oil used to cook tempura recycled for use as water soluble soap, recycled water used in employee toilets



2010:

Volume controlling heat exchange facility introduced, rationalization efforts for air conditioning facilities started,
improvements to temporary cold water booster pump made, high efficiency air conditioning unit introduced



2011:

Energy conserving "ecological pump" for cold and warm water circulation for air conditioning system introduced and ongoing upgrades made until 2018



2018:

Plastic straws eliminated and replaced with paper straws
About the Keio Plaza Hotel
Keio Plaza Hotel Tokyo, located in Shinjuku at the very heart of the nation's capital Tokyo, is one of Japan's leading international hotels. Our hotel boasts of over restaurants and bars, and we host a wide range of local and international guests who visit us for our welcoming facilities, warm hospitality and unique services that allow them to experience Japanese culture, including ourwedding kimono fitting experience,tea ceremony,ikebana experienceandmany others. For more information about our facilities and services, please visit ourwebsite,YouTube,FacebookorInstagram.
Contacts: Keio Plaza Hotel Tokyo, Public Relations Manager
Keiko Kawashima, +81-3-5322-8010 keiko-kawashima@keioplaza.co.jp