October, 2018
Keio Plaza Hotel Tokyo Main Bar "Brillant" Bartender Yosuke Nakane Won
La Maison Cointreau Japan 2018, to Participate in Global Competition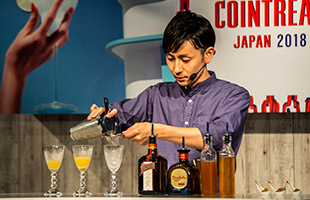 TOKYO - Keio Plaza Hotel Tokyo (KPH), one of Japan's most prestigious international hotels located in Shinjuku, Tokyo, is proud to announce that Yosuke Nakane (33 years old), bartender at our Main Bar "Brillant" (on the second floor of the South Tower), won the La Maison Cointreau Japan 2018 Final held on September 13 (Thursday), 2018 at the Tennozu Marche Market Tokyo (TMMT). La Maison Cointreau Japan is part of a series of cocktail challenges organized by Rémy Cointreau in Asia-Pacific to support the next generation of talented bartenders. In Japan, a countrywide screening of applicants was undertaken to select nine finalists for their outstanding bartending and communication skills. The capacity to show creativity and express the stories behind a cocktail was a key component of the judging process.
The finalists were first asked to make a presentation introducing themselves based on one of the six values of Rémy Martin Fine Champagne cognac while pouring Rémy Martin XO. Yosuke Nakane chose the value of "time" and used his rich experiences serving a wide range of customers at the hotel to give a presentation about the long and complex process of making cognac Rémy Martin from the wine making to distillation, blending and aging.

The second challenge asked the bartenders to create their original version of the margarita, which is a classic Cointreau cocktail. They had to provide a six-minute performance making and describing their margarita. Yosuke's original margarita using "Cointreau" was created in the image of the strong bond between him and his brother, therefore he named it "Cher Frère" ("Dear Brother"). The well balanced and harmonious cocktail blends the refreshing sweetness of the Cointreau orange liqueur with the complex flavour of tequila, the fruity acidity of pineapple shrub and bitterness of cordial with a touch of saltiness from a pineapple garnish.

Three of the nine finalists were then selected to advance to the final challenge, which had been kept secret until that time in the competition. They had to create a cocktail based on the value of "Terroir", a key value to Rémy Cointreau, yet this time in the image of "Malaysia", where the Asia Final will be hold. During this final round, Yosuke Nakane was chosen as the overall winner of the competition and his original cocktail "Cher Frère" will be available at the Main Bar "Brillant" located on the second floor of the South Tower of our Hotel from October 1, 2018.

Yosuke Nakane joined the Keio Plaza Hotel in 2006 and currently works primarily at the Main Bar "Brillant". His winning as the Japan Champion in his first global cocktail competition reflects his strong skills as a bartender and the advice provided to him by his fellow Hotel bartenders. Yosuke comments that he "will now focus his efforts to prepare for the upcoming La Maison Cointreau Asia 2018 competition". Previously in 2015, Yosuke also won the grand prize in the whiskey and spirits division of the "3rd Hotel Barmen's Association (HBA) Cocktail Competition sponsored by Kokubu Group Corp."

Yosuke Nakane's La Maison Cointreau Japan Champion Cocktail "Cher Frère"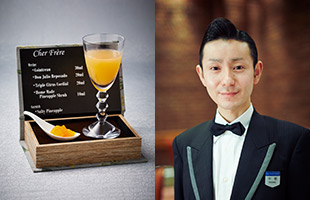 Cointreau:
Don Julio Reposado:
Triple Citrus Cordial:
Pineapple Shrub:
Salty Pineapple (Garnish)
30 ml
20 ml
20 ml
20 ml
All ingredients excluding the salty pineapple are mixed using a shaker, with the salty pineapple be added after the cocktail is poured into a glass.
For Information, Reservations: +81-3-3344-0111(Restaurant Reservation)
About the Keio Plaza Hotel
Keio Plaza Hotel Tokyo, located in Shinjuku at the very heart of the nation's capital Tokyo, is one of Japan's leading international hotels. Our hotel boasts of over 15 restaurants and bars, and we host a wide range of local and international guests who visit us for our welcoming facilities, warm hospitality and unique services that allow them to experience Japanese culture, including ourwedding kimono fitting experience, tea ceremony, ikebana experience and many others. For more information about our facilities and services, please visit our website, YouTube, Facebook or Instagram.
Contacts: Keio Plaza Hotel Tokyo, Public Relations Manager
Keiko Kawashima, +81-3-5322-8010 keiko-kawashima@keioplaza.co.jp