September, 2018
Super Buffet "Glass Court" Renovated for Reopening on January 24, 2019 - Live Performance Kitchen Capability Fortified
TOKYO - Keio Plaza Hotel Tokyo (KPH), one of Japan's most prestigious international hotels located in Shinjuku, Tokyo, will begin renovation of its Super Buffet "Glass Court" Restaurant located on the 2nd floor from January 8, 2019 and to be reopened on January 24, 2019. The "Glass Court" Restaurant has an open kitchen visible beyond the large buffet food counters from various elevations of seating in the restaurant, and the renovations being made include a more refined interior and expansion of seating to 188 (Current seating capacity of 181, annual sales of JPY1.087 billion). Furthermore, measures have been taken to expand and fortify the open kitchen performance space to make lunch and dinner at "Glass Court" more entertaining for our guests. Also, efforts have been made to fortify the menu, including a wider selection of Japanese and Chinese foods, and the addition of soft drink service.

The "Glass Court" Restaurant was highly unique at the time it opened in November 2003 for its open kitchen, where the cooking activities could be viewed like a live performance by guests from the seating area. Furthermore, the "Glass Court's" buffet style food service, which was highly unusual at the time, became model for most other hotel buffet restaurants and has served a total of 4.20 million customers ranging from small family to large corporate parties.

We also have chefs and patissiers on staff so guests can watch them prepare various foods and desserts to be served on the "dessert island" and "cold island", which include clear refrigeration tower cases to display various foods. Our chefs prepare a wide range of foods including Japanese, Western and Chinese to ensure that our guests never get bored by our food selection. In addition to our traditional and popular roast beef and foie gras, we also serve freshly baked pizzas and foods cooked in cocottes, tempura cooked in front of and served hot and crispy to diners, and various Chinese delicacies freshly steamed.
The smartly redesigned interior has been created by Hirsch Bedner Associates, which is a leading hospitality facility design firm that has been responsible for the beautiful interiors of many of the world's most celebrated hotels.

During the renovation from January 8 to 21, 2019, "Glass Court" will operate temporarily in the "Ensemble" Banquet Room on the 44th floor of our Hotel.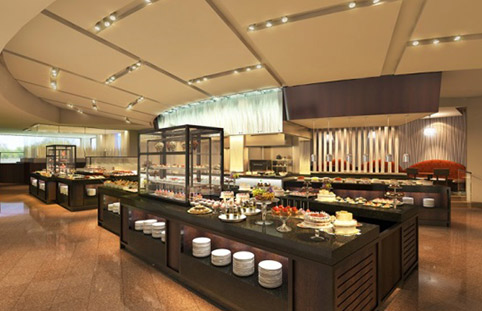 <Prices Effective from January 24, 2019>
Buffet Pricing per Person
(Includes taxes, service charge)
Breakfast
Lunch
Dinner
All Days
Weekdays
Weekends,
Holidays
Mondays to Thursdays
Fridays Weekends,
Holidays
Adults
¥3,000
¥4,300
¥4,800
¥6,000
¥7,000
Seniors ( Over 65 years old)
¥3,000
¥3,800
¥4,400
¥5,600
¥6,600
Elementary School Children
¥2,300
¥2,800
¥3,200
¥3,400
¥3,800
Infants (Over 3 years old)
-
¥1,500
¥1,900
¥2,100
¥2,500
※ New prices include free soft drink service.
For Information, Reservations: +81-3-3344-0111 (Restaurant Reservation)
About the Keio Plaza Hotel
Keio Plaza Hotel Tokyo, located in Shinjuku at the very heart of the nation's capital Tokyo, is one of Japan's leading international hotels. Our hotel boasts of over 15 restaurants and bars, and we host a wide range of local and international guests who visit us for our welcoming facilities, warm hospitality and unique services that allow them to experience Japanese culture, including ourwedding kimono fitting experience, tea ceremony, ikebana experience and many others. For more information about our facilities and services, please visit our website, YouTube, Facebook or Instagram.
Contacts: Keio Plaza Hotel Tokyo, Public Relations Manager
Keiko Kawashima, +81-3-5322-8010 keiko-kawashima@keioplaza.co.jp