February, 2018
Keio Plaza Hotel Tokyo Hosts "Cherry Blossom Spring Fair"
Featuring Menus and Displays Based on the Theme of Cherry Blossoms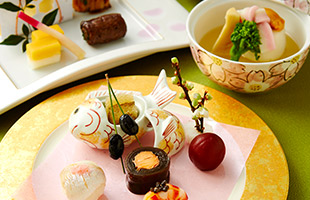 TOKYO - Keio Plaza Hotel Tokyo (KPH), one of Japan's most prestigious international hotels located in Shinjuku, Tokyo, will host a "Cherry Blossom Spring Fair" from March 1 (Thursday) to April 30 (Monday), 2018 at eight of our restaurants, including French and Italian Cuisine, Chinese dining, Japanese Kaiseki Cuisine, and Korean dining. The executive chefs at each restaurant will serve specially prepared menu items based on the theme of "Sakura" Japanese cherry blossoms and matched with champagnes and wines. Our hotel will also display special flower arrangements and other decorations to commemorate the arrival of spring and cherry blossoms for guests to enjoy and take photographs.

March and April are the busiest months for guests visiting Japan, and coincide with the very short period when the cherry blossoms are in bloom. We host this "Cherry Blossom Spring Fair" to provide guests opportunities to experience the fleeting but beautiful cherry blossoms in the comfort of our hotel. Our sommeliers will also select special champagnes and wines to match our delicious foods at special prices for this Fair.
"Cherry Blossom Spring Fair"
Delectable Spring Menu Items
Date: From March 1 (Thursday) to April 30 (Monday), 2018

Kaiseki Cuisine "Soujuan," 2nd Floor
Lunch and Dinner Kaiseki Course JPY15,500
* Reservations for lunch must be made a day in advance
French and Italian Cuisine "Duo Fourchettes," 2nd Floor
French Lunch course JPY8,500; French Dinner course JPY12,000
* Special menu items also served at Chinese dining "Nan-En," Japanese Cuisine "Kagari," Korean dining "Gokoku-Tei," and All Day dining "Jurin" on the 2nd Floor, and Tempura "Shun" and Teppan Yaki "Yamanami" on the 7th Floor of our Main Tower.

Champagne and Wine Celebrating the Arrival of Spring
"Piper-Heidsieck" Brut Champagne: JPY2,100 per glass; JPY14,000 per bottle
* Other rose, white and red wines also available.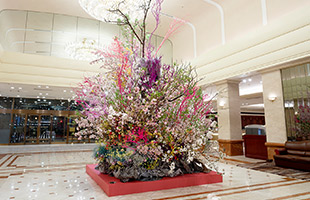 "Ikebana"Flower Arrangements Themed of Sakura Cherry Blossoms by Renowned Artist Hiroki Maeno
Period: March 31 (Saturday) to April 15 (Sunday), 2018
Venue: 3rd Floor Main Lobby
Admission: Complimentary
Cherry Blossom Art Flower Arrangement created by Flower Artist Miyou
Period: March 1 (Thursday) to April 30 (Monday), 2018
Venue: Japanese Kaiseki Cuisine, Japanese Cuisine, Chinese Dining Restaurants on 2nd Floor
* Prices include service charges and tax
For Information, Reservations: +81-3-3344-0111 (Restaurant Reservation)
For Exibition Infomation: +81-3-5322-8061 (Lobby Gallery Direct Line)
About the Keio Plaza Hotel
Keio Plaza Hotel Tokyo, located in Shinjuku at the very heart of the nation's capital Tokyo, is one of Japan's leading international hotels. Our hotel boasts of over 15 restaurants and bars, and we host a wide range of local and international guests who visit us for our welcoming facilities, warm hospitality and unique services that allow them to experience Japanese culture, including ourwedding kimono fitting experience, tea ceremony, ikebana experience and many others. For more information about our facilities and services, please visit our website, YouTube, Facebook or Instagram.
Contacts: Keio Plaza Hotel Tokyo, Public Relations Manager
Keiko Kawashima, +81-3-5322-8010 keiko-kawashima@keioplaza.co.jp