TOKYO - Keio Plaza Hotel Tokyo (KPH), one of Japan's most prestigious international hotels located in Shinjuku, Tokyo, serves specially prepared menu items at our restaurants and lounges during "Hina-matsuri (Japan's Traditional Girls' Doll Festival)" exhibition. Our club floor "Premier Grand" staying guests who order the special menu items will be presented beautiful scented sachets with "Sakura" cherry blossoms made by the famous Yamadamatsu Incense-Wood Co., Ltd. of Kyoto from February 1 (Thursday) to March 31 (Saturday), 2018.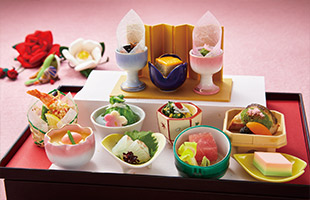 Our hotel hosts a special exhibition entitled "Hina-matsuri (Japan's Traditional Girls' Doll Festival)" from February 1 (Thursday) to March 29 (Thursday), 2018 with a special corner highlighting the history and tradition of incense in Japanese culture. The renowned Yamadamatsu Incense-Wood Co., Ltd. in Kyoto provides artifacts and art items relating to incense for display in our lobby. Incense originally arrived in Japan during the Asuka Period (From 592 to 710) as part of the Buddhist religion from overseas. Over time, incense became an intrinsic part of daily grooming, and later became an important part of Japanese artistic culture helping to reflect the mood of its seasons and songs. This exhibition focuses upon the history of incense culture in Japan by displaying various rare traditional craft items and fragrant woods. Also, some 6,800 magnificent and ornate handmade dolls and other traditional decorations representing the "Hina-Matsuri" Girls' Doll Festival culture, which sre displayed in our lobby, have become popular spots for guests to take commemorative photographs every year.

Executive chefs at ten of our restaurants and lounges create special appetizers and other foods in the image of traditional "Hina-Matrusri" dolls for the enjoyment of our guests.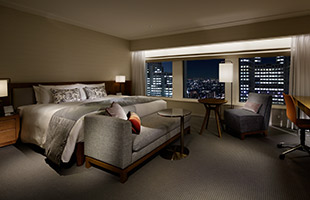 Our "Premier Grand" guest rooms are facilitated with special amenities including Antonietti bed sheeting from Italy, famous Imabari Japanese towels, L'Occitane amenity items, Bluetooth capable BOSE speakers, and others premium items. The sharply designed spaces of the "Premier Grand" Club Lounge are complemented by a special concierge service exclusively for Club Floor guests. The spacious 535 square meters Club Lounge boasts of panoramic views from 160 meters above ground and offers guests a relaxing space to unwind where they can enjoy various beverages and foods between 7A.M. to 10P.M.