January, 2018
Keio Plaza Hotel Tokyo Hosts Second "Peter Rabbit ™ Hotel Carnival"
Expressing various characters and items from the story with new displays of London style design
TOKYO - Keio Plaza Hotel Tokyo (KPH), one of Japan's most prestigious international hotels located in Shinjuku, Tokyo, will host a special event entitled "Peter Rabbit™ Hotel Carnival" based upon the world famous children's story "Peter Rabbit™" at three of our hotel restaurants from February 1 (Thursday) to March 31 (Saturday), 2018.

A similar event was held for the first time from April to June 2017 to celebrate the 150th anniversary of the birth of Beatrix Potter, the British author who created this famous series of children's stories about the fictional character Peter Rabbit. In the coming "Peter Rabbit™ Hotel Carnival," special desserts created in the image of various characters and items from the story of Peter Rabbit including a cake that depicts Peter Rabbit and Union Jack flag made from strawberries will be served at our All Day Dining "Jurin" Restaurant. Also, newly designed items will be decorated in our Super Buffet "Glass Court" Restaurant. Similarly, new desserts will be served with cute coordinated table settings at our French and Italian Cuisine "Duo Fourchettes" Restaurant. In addition, a special exhibition of Peter Rabbit will be displayed in the restaurant corridor adjacent to our "Glass Court" and "Jurin" Restaurants for guests to take commemorative pictures.
Second "Peter Rabbit ™ Hotel Carnival"
From February 1 (Thursday) to March 31 (Saturday), 2018
* Prices include service charge, taxes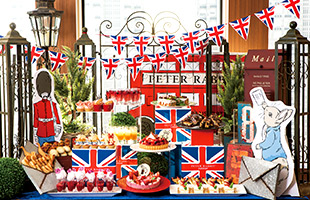 Dessert Buffet: "Peter Rabbit's Royal Dessert Time – Delicious Strawberries against the Backdrop of London"

Taste approximately 30 different types of desserts designed on characters including "Peter Rabbit Hide-and-Seek Tart," "Mr. and Mrs. McGregor Baked Pies," "Appley Dapply Jam Tarts," and others.
Place: All Day Dining "Jurin"
Price: JPY3,800 for adults, JPY2,600 for children of elementary school age (Including drinks)
Hours: From 3:00p.m. to 5:30p.m. (Last order at 5:00p.m.)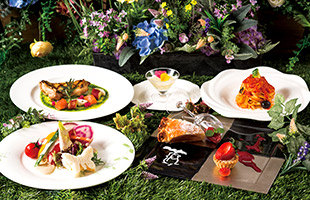 Peter Rabbit ™ Female Party Plan – "Dinner Party for The Three Sisters"

Don't miss "Mr. Tod's Mystery Herb Chicken" discovered by The Three Sisters in the forest
Place: French and Italian Cuisine "Duo Fourchettes"
Price: JPY6,500
* Restaurant Entry Hours: From 5:30p.m. to 7:30p.m.
* Minimum 2 Persons for Maximum of 2.5 Hours
* Reservations Required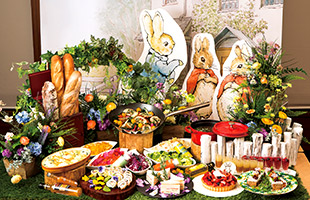 "Jemima's Country Buffet – Countryside Spring"

Enjoy "Salad Made from Vegetables Grown by Mr. McGregor," "Jemima's Egg Gratin," and a collection of other dishes using fresh and colorful ingredient with newly designed decorations in the restaurant.
Place: Super Buffet "Glass Court"
Lunch Price per Adult:
JPY3,600 on Weekdays, JPY4,100 on Weekends and Holidays
Dinner Price per Adult:
JPY5,600 on Weekdays, JPY6,600 on Weekends and Holidays
* Time restrictions from March 19 (Monday) to 30 (Friday), 2018
* Special Prices for Senior Citizens, Children of Elementary School Age and Under

For Information, Reservations: +81-3-3344-0111 (Restaurant Reservation)
About the Keio Plaza Hotel
Keio Plaza Hotel Tokyo, located in Shinjuku at the very heart of the nation's capital Tokyo, is one of Japan's leading international hotels. Our hotel boasts of over 15 restaurants and bars, and we host a wide range of local and international guests who visit us for our welcoming facilities, warm hospitality and unique services that allow them to experience Japanese culture, including ourwedding kimono fitting experience, tea ceremony, ikebana experience and many others. For more information about our facilities and services, please visit our website, YouTube, Facebook or Instagram.
Contacts: Keio Plaza Hotel Tokyo, Public Relations Manager
Keiko Kawashima, +81-3-5322-8010 keiko-kawashima@keioplaza.co.jp