We has hosted a societal charity event entitled "Volunteer Plaza" which annually held event has been very popular for its charity lunch, hotel shop charity sales, sign language concert and other various events.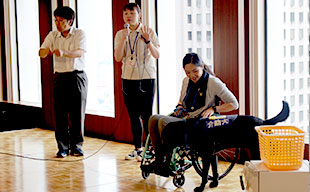 Our Hotel has continued to take proactive steps to promote barrier free access since 1988. Our "Volunteer Plaza" event has been held for the 15th time this year and is a project operated by the "Bird's Eye" group, comprised of Hotel staff from various departments within our Hotel, to promote more aggressive efforts to increase the breadth of our barrier free features. This event is also planned and operated through a coordinated effort between our management, employees and labor union, and proceeds from this event are donated to various volunteer groups.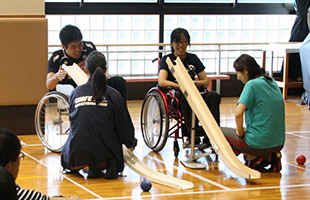 We also conduct the "Universal Support Experience" which was very popular last year. Keio Corporation is also participating in this event, with staff from its railway and other divisions working alongside our Hotel staff to provide support to elderly and physically challenged guests. In addition, we provide opportunities to wear specially created clothing and equipment to experience the difficulties in mobility that face elderly and physically challenged persons. Also, the role of seeing-eye and assistance dogs will be introduced in an "assistance dog demonstration". Furthermore, this event will also offer guests the opportunity to experience Boccia, a Paralympic sport which is played by people with severe physical disabilities and originated in Europe.