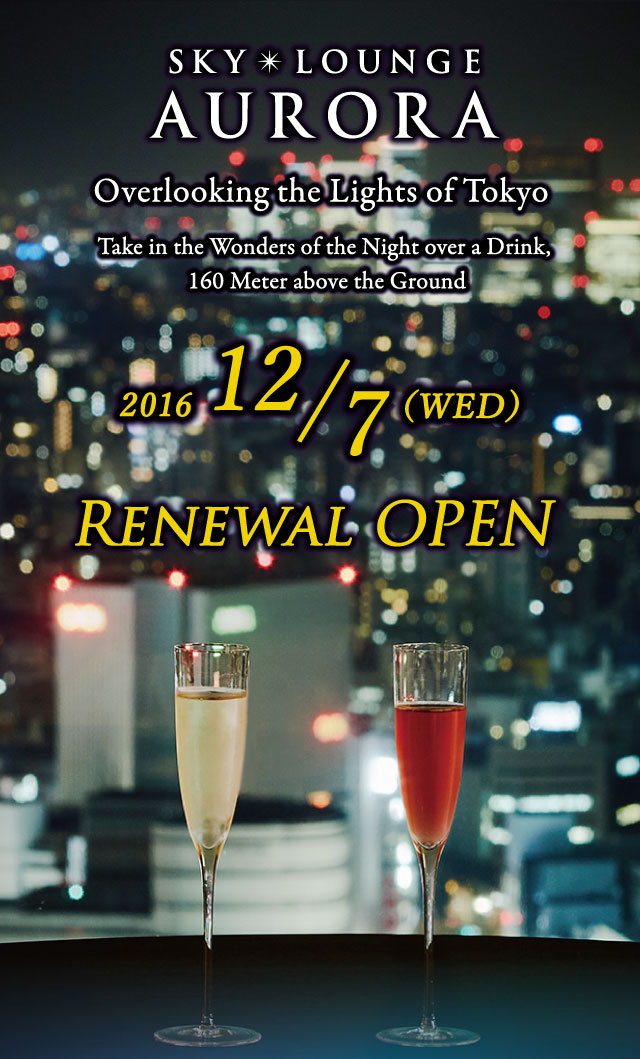 Welcomes Every Guest

Various seating environments which allow guests to enjoy Aurora upon various occasions. Some seating sections allow for couples and smaller groups of guests to enjoy meals and drinks quietly, while other sections allow for larger parties to celebrate various occasions.

Japanese Hospitality

The total dining experience at Aurora is designed to give you a taste of Japanese hospitality known as "wa." The dining utensils reflect the Japanese sense of beauty and tradition and accentuate the delicious selection of Japanese sakes.

Tokyo's Top Bartenders

Aurora will offer you an unforgettable moment with beautiful and exquisite cocktails created by the Japan's top bartenders, many of whom have been honored with awards from Japan and the world.

Beautiful Blue Sky

Guests will enjoy their afternoon tea in the beautiful interior of Aurora that accentuates the spectacular views of the Tokyo City skyline. Lunches will also be served on weekends and holidays.
45F / SKY LOUNGE <AURORA>
12/7(WED) 2016
Renewal OPEN
TEL.+81-3-3344-0111
★ Lunch time hours
(Weekends and holidays only)
12:00 noon〜2:00p.m.
★ Afternoon tea time hours
2:00p.m.〜5:00p.m.
★ Bar time hours
5:00p.m.〜11:30p.m.