"Moon au Lait"
Sky Lounge "Aurora"
The award winning "Moon au Lait" cocktail which uses a delectable and soothing combination of coffee liqueur and herb scented milk is served at our Sky Lounge "Aurora". Guests are treated to spectacular panoramic nighttime views from the Sky Lounge "Aurora" located 160 meters above ground that enable them to see both the Tokyo Skytree® and the Tokyo Tower, which have also been selected as "Japan's Top 100 Most Beautiful Moon Viewing Sites".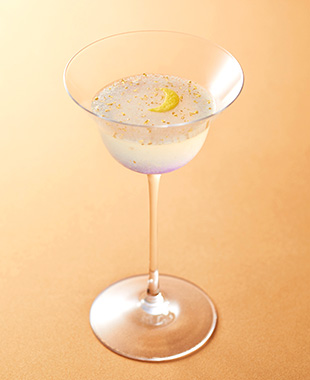 "Brilliant Moon - Splendid Evening"
Lobby Lounge "Cocktail and Tea Lounge"
The lounge serves "Brilliant Moon - Splendid Evening", an original citrus fruit flavored cocktail using crescent shaped grapefruit peel created for this commemorative event. Also, beautiful pottery created by Yusuke Aida, one of Japan's most renowned pottery artists, and designed in the image of "Beautiful Moon Night, Mountains Draped in Sea of Clouds" is on display along the fringe of the garden adjacent to the lounge. This garden will be lit up to provide a fantastical view for guests to enjoy while tasting our brilliant cocktails using gold leaf and other lavish ingredients.

About the <Japan's Top 100 Most Beautiful Moon Views>
The YAKEI (Nighttime views) Convention & Visitors Bureau, General Incorporated Association has created the Japan's "Top 100 Most Beautiful Moon Views" as a certification and registration system to promote the "beauty of the moon" at various sites throughout Japan and disseminate sites information worldwide. This is the first project in Japan to leverage the value of the moon as a tourism resource.